A gift that really tells them how much they are appreciated
With a simple toll-free call, LifeOnRecord lets friends and family record their well-wishes, congratulations, gratitude, encouragement, and words of support to create a one-of-a-kind gift.
Callers feel honored to participate, and LifeOnRecord makes it simple for anyone to contribute to the keepsake regardless of where they live.
How it Works
Friends and family call a toll-free number and hear a personal greeting from you inviting them to leave a favorite story, memory, or wish. The caller leaves a meaningful message and has the option to review what they recorded and re-record it if necessary.
You as the coordinator have complete control - and you'll have as much fun as the recipient!
As each recording comes in, it's available on our website within seconds. You'll be able to play the recordings online and through iTunes, and you'll have control over what recordings make it to the final CD and in what order.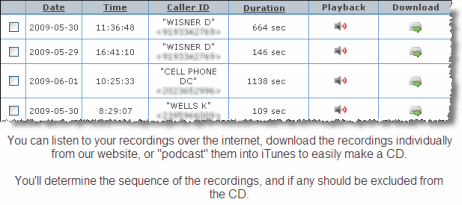 You can either download the recordings to your computer for free and make your own CD, or we'll send you one.

It's that simple!
A surprisingly affordable price, for a priceless gift!
Despite the current economy, we want you to have the opportunity to be able to give this gift to someone special, so we have temporarily reduced the basic price from $89.99 to $49.99.
The LifeOnRecord service itself costs $89.99 $49.99 (Limited Time Special Offer). For that price you receive a toll-free number for family and friends to leave messages for the event, the ability to play and monitor the recordings online, and the ability to make CDs using iTunes. For the $49.99 fixed price:
As many people can call in as you want, and each person can record a message that is up to 30 minutes in length. Callers can even leave multiple messages! There are no limits on the number of calls you receive.


The toll-free number is active within a few minutes after you sign-up, and expires after one year. You can download your recordings, and make or request CDs at any point in time. Everything is under your control.


You will be able to monitor and play the recordings on our web site, and download individual recordings. With the included iTunes integration, you can easily make entire CDs, with the "tracks" you desire, in the sequence you want.
Be a Hero To Your Loved Ones!
Quick Turnaround
You'll receive an email with your account information and instructions the same day that you sign-up for the service. When you are ready to have us create your CDs, just let us know and we'll compile the recordings, personalize the CDs with a printed message on the front, and ship them out the next day.
People have been able to sign up for the service, have everyone call in the next day, and then present the CDs to a loved one the day after that. If you create the CDs yourself, the turnaround time can be even quicker.
We'll keep your toll-free number active as long as you need, so go ahead
and sign-up now.
You can make your own CDs, or we can create them for you.
Although you can download your recordings for free into iTunes (which itself is a free download for PCs and Macs) and burn your own CDs, we can also create personalized keepsake CDs packaged in a distinctive metal case for an additional $24.99. You pay the same $24.99 price even if it takes multiple CDs to fit all your recordings!
So, if you buy the CD set, the total price comes to $114.98 $74.98 with free shipping!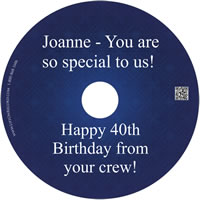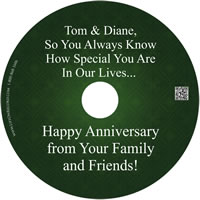 You can choose from a number of CD backgrounds, as well as write whatever you'd like - we auto-size the font size to make sure everything fits. The Keepsake CD has a glossy finish and is a wonderful way to preserve the voices of friends and family.
"A meaningful, highly-personal gift that's simple and easy to create"
Although people change, memories fade, and stories tend to get lost, you'll be giving a gift that captures and preserves feelings and stories.
LifeOnRecord collects everyone's personal recordings and creates a keepsake which becomes even more meaningful with the passage of time.
"Voices convey personality
Has there ever been an answering machine message or voicemail that you've wanted to save?
The words that were said are only part of what makes those messages special.
What really makes people sentimental for those recordings is that voices convey personality, which makes the message more meaningful than the same words written in a card.
A Simple Guarantee
Our guarantee is straightforward. You can cancel at any time, for any
reason, and receive a full refund.
Have questions? Read our FAQ section or send us an

Only $89.99 $49.99 for an unlimited plan - you can easily make
your own keepsake CDs using iTunes.
Only $114.98 $74.98 for the complete package with a
personalized keepsake CD packaged in a metal, windowed case.
"It was the best gift I ever received"
To start your LifeOnRecord Experience,
click the button above or call
1-800-868-1606
P.S. LifeOnRecord Journals make a great gift and allow others to record personal stories and memories in their own voice . Buy a subscription for a loved one or easily purchase a:
$10 gift certificate
$25 gift certificate
$50 gift certificate
$100 gift certificate

For guests...
They like using it - People want to convey their well-wishes. LifeOnRecord gives them an easy way to do that, and they feel honored to be asked.


It's simple - Your guests just dial a phone and talk!


It's fast and convenient - Many people are more likely to tell a meaningful story than write one in a scrapbook or card.


Contribute from anywhere, anytime - Callers phone in at their convenience, and it's perfect for those that can't physically be there.


For the subscriber:
Make it a surprise - LifeOnRecord makes it easy for people to collaborate and call in without the guest of honor suspecting a thing.


Flexible. The recipient can organize and play the stories and well-wishes over the internet, through iTunes, or download them to their MP3 player. If they don't have a computer they can listen to them over the phone or on a CD.


A back-to-basics present - A great way of letting the guest of honor know how much people care for them. LifeOnRecord lets people express emotion, thoughts, and feelings that might otherwise go unsaid.


---

Suzanne Goldensohn
I did a surprise LifeOnRecord recording for my husband's 40th birthday. It was a perfect way for his friends and family, both near and far, to be involved in his big birthday. It was so easy! The CD turned out fantastic! My husband loved listening to the CD...

---

Shelli Cathcart
I gave it to my best friend for her 30th birthday. She lives in Australia and I didn't get a chance to see her for her special day. She absolutly loved it!

---

Terri Ghio
I have used Life on Record CD for two events. Once for my Mom's 75th birthday and recently for my husband's 60th birthday. The experience was wonderful. We were able to get family from all over the world to contribute and the CD was created in Italian. My husband absolutely loved it. The opportunity to say something special about someone you love and not wait for a funeral is very special. His childen were able to say things they would not have said in person. Warm thoughts and funny stories were the best.
This company is amazing to work with and I would give more stars if I could - I am a huge fan. I hope to get one myself sometime!

---

Diane Lentz Snow
I have used LifeOnRecord twice now - once for my parents 40th wedding anniversary and once for my aunt's Golden Jubilee - and I couldn't ask for a better company to work with. The communication between LifeOnRecord and the customer is tremendous and everyone that called in raved about what a great idea it was for a gift. I would HIGHLY recommend LifeOnRecord to anyone. I wish I could give them more than 5 stars.

---

Krishna Das
For my wife's 25th birthday, I had 25 of her closest family members and friends record messages through Life on Record....the best, everlasting gift ever!!!

---

Dena Clements
It might sound simple but this is an amazing gift!! I was able to solicit voice messages from folks that couldn't travel to my mother's 80th birthday party. She was entranced as people in her life spoke to her and about her-one after another! Even her dentist called and left a message! Names and voices from all across the country created the best gift of the day! It wasn't just a gift for her but to all who could withness the look on her face as she recognized the voices of family and friends-PRICELESS! Not a dry eye in the place! The real truth is......thanks to LifeOnRecord-I was able to pull of this amazing feat in only two days prior to the party! A procrastinator's dream!

---

Garen Wisner
If you are not familiar with this service it will be the most memorable gift you have ever given someone - and the most appreciated. They make it simple and seamless. All you need is to email or tell folks about the 800 number.
I did this for my parents 60th wedding anniversary. What was nice is that everyone regardless of distance was able to virtually participate in honoring my parents on that day.

I would even say - don't wait for an event. Surprise someone with a - we appreciate you day using this. That will really be meaningful!

It is all about creating memories and holding on to those precious moments. This is even better than pictures! Try it.

---

Kacey Emmert Williams
This is one of the easiest and most appreciated gift I have ever given. For my fathers 65th Birthday I found LifeOnRecord's website and decided to try it. What else do you get a man that has everthing. The process was very simple!! When we played the CD for my father at his birthday party he was speechless. Hearing from old class mates and friends he hadnt seen in years. It was a moment that I dont think any of my family will forget. I highly recommed LifeOnRecord!!!

---

Gina Maffiore Hickman
I've used LifeOnRecord two times now, for a 40th and for a 50th birthday celebration. It was such a well received gift and a memory to last a lifetime. Voices of loved ones to treasure forever. Of all the gifts presented, this clearly was the most sentimental and adored gift. I hope I get one for my 40th birthday coming up this year!! (hint-hint!!) :)

---

Paul Timmins
We used Life On Record for my mother's 80th birthday. My Mum got loads of presents but without doubt this touched her the most. From recording of hand chimes from her campanology friends to reminiscences from her twin brother of life in the womb!! and a dozen loving memories in between we all remembered and laughed our way through her lifetime stories. This a fantastic way to recall events I would recommend it to everyone.


---

Linda Torson Volpi
I gave a Life On Record CD to my mother for her 90th birthday in March. I ended up with 54 messages. People had never heard of such a service and thought it was very unique. The directions were very clear and easy to understand.

I just want to say that my mom listens to her CD nearly every day, and she and I both get teary whenever we listen to the wonderful messages her friends and family left for her.

I would give Life On Record ten stars if I could. One of the best tributes you could give someone.

---

Lisa Wasserman
I gave my dad a LifeOnRecord CD for his 80th birthday over a year ago. The process of reconnecting with so many old friends and family members was a gift unto itself. The instructions for putting together the CD were very simple and I did call the staff several times. They were extremely patient, helpful and professional. Two weeks ago my dad passed away suddenly. The memories, stories, songs and praises of his life that were captured on the CD are especially poignant and meaningful right now. Truly a gift that will be cherished within families for generations.

---

Doralece Dullaghan
I love Life on Record. I used it for my mother's 90th Birthday and my husband's 65th. They were each so happy to hear the voices and memories from friends and family members that they had not seen in years. My husband tricked my mother into recording a song she likes to sing on her recording and I used it as a background song for the video I showed at the party with old photos of her. It made it very special and will be a great memory for years to come.

---

Julie Omodio-Griess
LOVE LifeOnRecord!! What a great gift for my mom's 60th surprise birthday party for guests that could not personally attend!! My mom LOVED it and it was so easy to do!!!


---

Joey StJohn
We too often give gifts just because we are "supposed" to. This is a gift you give because you want someone to have a treasure that they will appreciate more every time they look at it much less listen to it. My wife loved the voices of her friends, parents, and daughter captured as a Christmas present.


---

Dawn Treyman Sollitto
I am giving it to my dad who is battling cancer. We are putting inspirational and encouraging messages to get him through his fight. Thank you!


---

Mary Alice Drewer


What a great way to show our Mom celebrating her 80th birthday that she has touched so many lives and that she has so many happy memories to look back on! Thanks for making this possible and she loves listening to the cd regularly! It brings such a smile to her face!

---

Cathy Kulenkamp
I used this service for my grandma's 90th birthday present. She was afraid that no one would be able to come to her birthday party. She was surprised with friends, family and messages from those who were unable to attend. Watching her expression while listening to the heart felt messages was priceless. Thank you for helping me give the perfect gift!


---

Carol Jean Boris
I purchased Life on Record for my Dad's 80th birthday and it was the hit of the party. He loved it. Family from all over the country called and told wonderful stories and shared special moments. My Dad continues to listen to it over and over. I loved this idea and will continue to use it for special occasions. It was an affordable thing to do for such a special event.

---

Marsha Miller
My mom is the youngest of 13 and turned 60 last year. Her family and friends are scattered all over the U.S. and many were not able to attend her party. This service provided a way for all of them to connect with her on her special day. She has enjoyed listening to all the memories shared over and over again. This was her favorite gift! This truly is a gift to give to someone that has everything! Thanks!

---

Gina Harpur
Life On Record is such a special way to celebrate/memorialize a special occasion. I participated in a friend's husband's 50th birthday recording. So simple to use and one of the best gifts that can be given.

---

Rebecca Clark Dierssen
LifeOnRecord is a great gift idea for teachers, coaches or others who have kids under their wing. It's easy to put together, but more importantly their customer service line is US bound and there to answer any and all questions when needed.

---

Anne Kasl Pruett
I am giving this to my Grandmother for her 95th birthday in August. Some of the comments are priceless and tug on the heart string. It's so simple to use!

---

Fran Ripley
Mom loved her LifeOnRecord CD. I put her 80th birthday party together from a distance and this CD was indeed a hit. Friends and relatives near and far were able to participate. Some memorable moments on the CD were various great grandchildren singing and playing the piano. A particularly talented friend of Mom's created a harmonic... a singing piece called 'The Turnin' 80 Blues'. An old friend related fond memories for the last time in his 'voice' (the next day they were going to have to remove his voice box due to cancer). Cousins from across this great nation got very creative and their messages caused tears of doubled over laughter all around as they recalled childhood memories. Mom continues to listen to the CD from time to time and enjoys hearing the memories and voices. I highly recommend LifeOnRecord. The CD was affordable, easy to do, and will be treasured for years to come.

---

Shane Bowlin
I used LifeOnRecord to create a DVD for my father's 70th birthday. I used the mp3 files along with photos to create a movie for him. It was really easy to do. I'll definitely use this service again!

---

David Graffagna
My family used LifeOnRecord to capture thoughts, memories, well wishes, etc. for my Dad on his 80th Birthday. With a very large family and globally-spread extended family, LifeOnRecord gave us an ideal way to share sentiments with Dad even if some of us couldn't be there on his day. We gave him other gifts for his birthday, but those material things paled in comparison to the genuine love and gratitude we were able to give Dad with what LifeOnRecord helped us pull together.


---

Janice Fahy
I used LifeOnRecord for my friend's 40th birthday. Not only did she really enjoy receiving this as a gift, I had sooo much fun editing the CD. We laughed so long and hard listening to the funny stories. This is the best gift I've ever given someone.
Feedback from Letters and Emails...
First, I want to tell you how LifeOnRecord is WONDERFUL! The feedback from the people who participated in my mother's 75th birthday has been and have been AWESOME. Everyone loves the idea of your company, I love the idea of your company and I wanted to encourage you. Thank you and I pray that you will continue to prosper with LifeOnRecord.
This was a special event for me and my family and LifeOnRecord made my mother's birthday even more special.
L'Tarra Moore, Atlanta, Georgia
This was one of the best gifts my daughter, Chandler, has ever received in her life. In the world today, not many things are meaningful and really make an impact, but hearing Chandler's CD almost made me cry. I had people from 9 different states and 2 from Canada call in and leave messages.
I explained what the CD was about, and she couldn't wait to listen to it. When we got home, she ran and got her CD player and began listening. You could see her face begin to glow. She was soooo touched and she was about to cry. She could not believe all of the people that had called in and left such sweet and funny messages. She then listened to the CD again, and again, and again.
The CD is a gift she will have for the rest of her life and she will always be able to listen to all of the kind words for years to come. Yes, I think letters are great, but to hear the voices on this CD speaking directly to Chandler was amazing. What a great gift !! She has already asked me to do this for her when she gets married.... jumping the gun a little bit - but I think it would be a great idea too.
Betsy Scott, Libertyville, Illinois
With friends and family spread-out throughout the United States, your service was able to bring everyone together for my parent's 40th anniversary. The gift brought tears to my parent's eyes and it was the perfect way for people to talk about the impact my parents have made. Your service is something I'll be recommending to all my friends.
Amanda Johnson, Portland, Oregon
I purchased Life on Record as a gift for my grandmother's 85th birthday. When we played it for her at her house, there wasn't a dry eye in the room. She was so so touched and said it's the best present she ever received. I intend to use LifeOnRecord for my father's 60th birthday next month!.
Tony Balistreiri, New York, New York
We all called in and made this a surprise gift for my father's 65th birthday. The CD was nicely packaged in the silver case, and made an impact even before anyone listened to it.

We all listened to the CD together with my father, and it was absolutely wonderful. I learned a lot about my father that I didn't know. My father isn't an emotional man, but I was sitting across from him when we listened to it, and he was clearly moved. This was a great way to celebrate his life so far.
Sarah Kennedy, Columbus, Ohio
Thank you so much for the special CD from my class. I love it! It is such a special and unique gift. I have listened to it a number of times and all the other teachers are jealous. Again, thank you!!!
Monica Shuman, Milwaukee, Wisconsin
This turned out to be the perfect gift for my father's 75th birthday. I was blown away by how fast my emails were answered, and the level of customer service. The LifeOnRecord experience was first class all the way!
Robert Jaremus, Jacksonville, Florida
The CD we received as a present after our child was born is something we will treasure forever. To hear the voices of people we haven't seen since our wedding blessing us and our new child was wonderful, and is also something we cannot wait to share with our daughter when she gets older. Thank you!!
Anne O'Sullivan, Virginia Beach, Virginia
I just wanted to express how happy my daughter was with this gift. We were taking Sarah and 3 of her friends to a concert on her actual birthday. We told her we wanted her to listen to a new CD that we had just purchased. I'm sure you can imagine her reaction with her friends in the car. She's the youngest of 5 so we are older than her friends parents and she doesn't always like our choice of music. The eyes were rolling...
The first voice was a very dear male friend....she screamed...then the next message, she screamed some more...I was sitting beside her and she was so excited. Her friends did keep the secret and she turned and said with wide eyes, "You guys knew about this and you kept it a secret, this
is the coolest gift I could ever receive!"
Thank you for "Life on Record" as she will never forget her 16th Birthday. By her friends standards, I'm now the coolest Mom. That works and I've been giving you company praise and referrals so I hope this helps your business.
Sarah Presley, Noblesville, Indiana
LifeOnRecord was the perfect way to send all of our loving thoughts to my nephew who is serving in Iraq. The voices from home were exactly what he needs to hear!
Thayna Regas, El Paso, Texas
Our LifeOnRecord number provided a truly unique way to include Zengeler Cleaner's 18,000 household customer base in our 150th anniversary celebration. Callers have left a wonderful variety of special messages that range from nostalgic to humorous and everything in between. LifeOnRecord makes it simple for our customers to call and capture some of the precious memories we have in common.
Tom Zengeler, Wauconda, Illinois