"There is meaning and emotion in hearing a voice that is missing from reading words on a page."
LifeOnRecord is one of the most meaningful gifts the bride and groom will have after the wedding.
With a simple, toll-free phone call, friends and family are able to express their well wishes, congratulations, encouragement, and advice for married life. LifeOnRecord collects the recordings and creates a unique group voice journal which becomes more meaningful with the passage of time.
Include everyone - even people
that can't make it to the wedding!
How it Works
Friends and family simply call a toll-free number and hear a personal greeting from the bride and groom or the parents. The caller leaves a meaningful wedding message and has the option to review what they recorded and re-record it if necessary.
As each recording comes in, it's available on our website within seconds. You'll be able to play the recordings online and through iTunes, and you'll have control over what recordings make it to the final CD and in what order.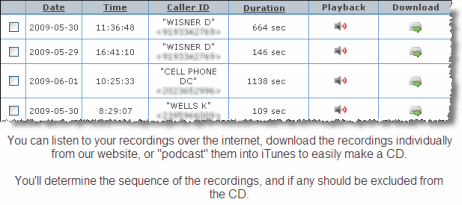 All the messages are recorded and sent to you on a CD.
It's that easy!
Couples usually invite people to call through an insert in their wedding invitations or an email.
A priceless wedding keepsake for only $144.99 $99.99
Weddings aren't cheap, and although you might be used to paying a premium for wedding services, this is a refreshingly affordable way to preserve the voices of friends and family.
We don't put a limit on toll-free talk time or the number of callers that phone-in.
For $144.99 $99.99 as many people can call as you want, and each person can record a message that is up to 30 minutes in length. People can call in multiple times if they are inspired to leave additional messages.

That price includes three keepsake CD's packaged in distinctive metal cases.
Why you should get it
Although you might have photographs and video of the ceremony, the dances, and the garter toss, the most precious moments will come when people express their love for you. Those are also the moments that are most easily forgotten.
You'll capture the emotion that you don't get when you read words written on a page, and you'll get the meaningful thoughts and stories you don't get from a wedding video. The recordings become even more special to you as time passes.
Wedding couples have told us that they cherish their LifeOnRecord recordings more than any other keepsake from their wedding.
Have questions? Read our FAQ section or send us an .
A Unique Way of Capturing
Stories, and Even RSVP's!
To start your LifeOnRecord Experience,
click the button above or call
1-800-868-1606
P.S. We have a 100%, no hassle satisfaction guarantee. You can cancel at any time and receive a full refund. We'll keep your toll-free number active for two months after your wedding date - regardless of when that date is, so go ahead and sign-up now.

P.P.S. LifeOnRecord Journals make a great gift and allow others to record personal stories and memories in their own voice . Buy a subscription for a loved one or easily purchase a:
$10 gift certificate
$25 gift certificate
$50 gift certificate
$100 gift certificate