An anniversary gift that really tells them how much they are appreciated
A LifeOnRecord anniversary CD contains the heartfelt thoughts and feelings of family and friends preserving their stories, well wishes, and memories for the anniversary couple.

Callers feel honored to participate, and with a simple toll-free call it's simple for anyone to contribute to the CD keepsake regardless of where they live.
For anniversaries it's important to help the couple pause their lives and reflect on the impact they've made on families and friends and LifeOnRecord saves everyone's perspective of this time in a way nothing else can.
How it Works
Friends and family call a toll-free number and hear a personal greeting from you inviting them to leave a favorite story, memory, or wish. The caller leaves a meaningful message and has the option to review what they recorded and re-record it if necessary.
You as the coordinator have complete control - and you'll have as much fun as the recipient!
As each recording comes in, it's available on our website within seconds. You'll be able to play the recordings online and through iTunes, and you'll have control over what recordings make it to the final CD and in what order.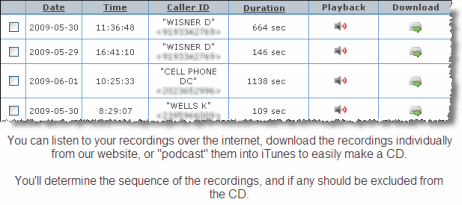 You can either download the recordings to your computer for free and make your own CD, or we'll send you one.

It's that simple!
A surprisingly affordable price, for a priceless gift!
Despite the current economy, we want you to have the opportunity to be able to give this gift to someone special, so we have temporarily reduced the basic price from $89.99 to $49.99.
The LifeOnRecord service itself costs $89.99 $49.99 (Limited Time Special Offer). For that price you receive a toll-free number for family and friends to leave messages for the event, the ability to play and monitor the recordings online, and the ability to make CDs using iTunes. For the $49.99 fixed price:
As many people can call in as you want, and each person can record a message that is up to 30 minutes in length. Callers can even leave multiple messages! There are no limits on the number of calls you receive.


The toll-free number is active within a few minutes after you sign-up, and expires after one year. You can download your recordings, and make or request CDs at any point in time. Everything is under your control.


You will be able to monitor and play the recordings on our web site, and download individual recordings. With the included iTunes integration, you can easily make entire CDs, with the "tracks" you desire, in the sequence you want.
Be an Anniversary Gift Hero!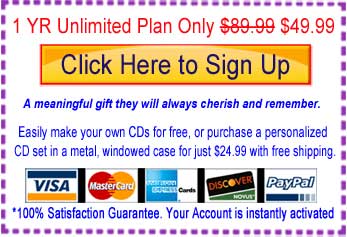 You can make your own CDs, or we can create them for you.
Although you can download your recordings for free into iTunes (which itself is a free download for PCs and Macs) and burn your own CDs, we can also create personalized keepsake CDs packaged in a distinctive metal case for an additional $24.99. You pay the same $24.99 price even if it takes multiple CDs to fit all your recordings!
So, if you buy the CD set, the total price comes to $114.98 $74.98 plus shipping. (Shipping is about $6.50 for USPS Priority Mail shipping with Delivery Confirmation).
Quick Turnaround
You'll receive an email with your account information and instructions the same day that you sign-up for the service. When you are ready to have us create your CDs, just let us know and we'll compile the recordings, personalize the CDs with a printed message on the front, and ship them out the next day.
People have been able to sign up for the service, have everyone call in the next day, and then present the CDs to a loved one the day after that. If you create the CDs yourself, the turnaround time can be even quicker.
"A meaningful, highly-personal gift that's simple and easy to create"
Although people change, memories fade, and stories tend to get lost, you'll be giving a gift that captures and preserves feelings and stories.
LifeOnRecord collects everyone's personal recordings and creates a keepsake which becomes even more meaningful with the passage of time.
"Voices convey personality"
Has there ever been an answering machine message or voicemail that you've wanted to save?
The words that were said are only part of what makes those messages special.
What really makes people sentimental for those recordings is that voices convey personality, which makes the message more meaningful than the same words written in a card.
A Simple Guarantee
Our guarantee is straightforward. You can cancel at any time, for any
reason, and receive a full refund.
Have questions? Read our FAQ section or send us an

Only $89.99 $49.99 for an unlimited plan - you can easily make
your own keepsake CDs using iTunes.
Only $114.98 $74.98 for the complete package with a
personalized keepsake CD packaged in a metal, windowed case.
"It was the best gift I ever received"